Kidmunicate became successful by following the guidelines below. You can do the same or you can buy a Kidmunicate Franchise.
NOW WE OFFER FRANCHISES*.
If you are on this page, we assume your are exploring the possibility of opening up your own pediatric speech pathology private practice. If so, that's exciting and we wish you the best.
You have two options. You can follow the steps below or you can explore owning a Kidmunicate Pediatric Speech Therapy Franchise.
Our franchise concept allows SLPs to get up and running in business quickly. We also allow SLPs to concentrate more on what they do best (therapy) and less of what they don't (marketing and operations).
Or visit our franchising website for more information www.kidmunicatefranchise.com
How To Start A Speech Pathology Practice – 11 Tips
Tip 1. Develop a business plan (If you franchise – you will still need to do this)
You need a business plan.

Search for business plans on Google, then select a template to create a business plan. There are some great cloud based programs you can use. You can also go to a bookstore to get a book with biz plan templates.
The business plan template will organize your thoughts by leading you through the new business thought process. A good business plan template will help you explore your motivations, your differential advantages, the opportunity, the potential costs, the risks, the competitive landscape, etc. It's the place to start to discover what kind of a clinic you want to develop. Do you want a single therapist clinic with one small therapy room and waiting room or a 5 therapy room clinic set up with full and part time employees. Do you want to accept insurance or not? The business plan will help you think through these types of questions. Each answer will have implications regarding the set-up and operational costs, the staffing plans and the marketing strategy.
Scott Harmon at startaprivatepractice.com is a great place to get some advise on how to start a speech pathology practice.
After you complete your plan, it's a good idea to walk through the plan with an unbiased professional, like your financial advisor or CPA, etc.
Tip 2. Separate your finances (If you franchise – you will still need to do this)
If you decide you want to move forward, open up a business checking account and secure a small business credit card. You will want to keep everything separate from your personal assets right from the start. This will make tax-time much easier too.
Tip 3 Incorporate your business (If you franchise – you will still need to do this to protect your personal assets)
You will need a lawyer to set up your company. You will probably want to set up a LLC (limited liability corporation) to protect your personal assets. This is important because you will want to keep your personal assets (like your house) and liabilities separate from your business ones.

The lawyer will likely help you establish a Federal Tax ID at this stage or you can do this yourself. As you know, the government will want their share.
Be very careful about how you use your lawyer because every second is charged. Prior to every meeting with your lawyer, do your homework and prepare for each meeting. Make sure you are very efficient by only asking essential questions (skip the small talk). Once you get the answer you need, cut them off, redundancy costs money.
Tip 4 Choose a name and create an identity (If you franchise – you will use the Kidmunicate brand name and equity)
You will need a name. Many just use their own name as the company name, while others find a fictitious name. We chose a fictictious name because we planned to expand to other markets with other SLPs.

Important Note: In PA, we needed to get our fictictious name approved by the state board for speech and language. This is the same entity that provides the license to practice in your state. I am not sure if this is a requirement in all states, but it's important that you call to ask for all state requirements. You would not want to develop a logo, buy an URL, create a website, print business cards, etc., only to find out later that you cannot use that name.
Do a search of the business name you are considering on Google and go to GoDaddy.com to check to see if the URL (website address) is available. If not, think of another name.
It's also a good idea to do a trademark search of the name. Again, you can spend a lot of money creating a brand only to find out later you cannot use it. Or worse yet, get sued. A simple search on the US Patent and Trademark Office database is a good place to start. I would also recommend that you clear the name with your lawyer because the USPTO database may not be up to date.

You might also want to get a trademark to protect your name. You will need a lawyer who specializes in this type of work. It's expensive and it can take twelve plus months to complete. Don't worry, if you are confident that the trademark is available, you can get started on your business before you have an actual trademark. Once you start using your name publicly, your lawyer should be able to protect the name until it becomes officially trademarked.
You do not need a trademark, if you use your own name
If you pick a fictitious name, you will also want to create an identity, the look, tone, feel, logo, etc.

You can hire a local graphic designer to do this. That's what we did.
You can also go to LogoTournament to get a logo done by a professional for a nominal amount of money. On the LogoTournament website, designers compete for your business.

Register, give some initial creative direction, set the price you want to pay and see what you get. A higher fee will attract a greater number of talented designers.
Once you select the logo you like from a designer, you can work with the designer directly to refine the logo.

Use the logo to create business cards, brochures, etc. We used vistaprint.com.
Tip 5 Build a website (If you franchise – you will be integrated into a great site with lots of content for your clients.)
Buy your URL (your website address).

We bought ours from Godaddy.com. We like Godaddy because they are so helpful when you have questions or issues.
Use a URL that matches your business name. This will help your customers find you and it should help with search rankings. (For example – if you name is Main Street SLP – do not use www.msslp.com)

Create a website. You have several options to create a website.

You can hire an agency or a freelance designer / developer.
You can get a template site from GoDaddy, Wix or web.com where you can easily set one up without any coding experience. Here is a list of the Top 10 website builder sites.
You can also get a company like web.com or wix.com to create a site for you. It will look fairly generic, but it will be functional and findable.
Otherwise, you can go to WordPress.com and purchase a theme that you can customize to a much higher degree than the template sites. That is what we did, but my partner had experience developing websites.

Once you get a website up and running, you might want to hire a SEO (Search engine marketing company) to help you optimize your site.
Tip 6 Find a location (If you franchise – we will guide you)
Determine how much rent you can afford

Look at your working capital and revenue projections and determine your start up costs, salary needs, the cost of labor, utilities, etc. Then determine how much rent you can afford for the first 3 years. This should be in your business plan.
Do you want a small therapy office with one therapy room or do you want a clinic with many rooms? We went big with six rooms, but I would recommend that you get a short lease in a smaller place and expand as your business grows.

The next thing you need to do is find a location and negotiate the lease.

We used a real estate agent.
This part of the process can be long and frustrating. It's not easy to find the perfect place that meets the needs of your therapy space, parking spaces, rental budget, etc.
If you sign a lease for a 3 to 5 year term, the landlord should build out the space to your specifications for the commitment. If you get a month to month type rental agreement, then you likely not be able to customize the space very much.
You might want to hired a lawyer to review the lease.

Create a workable, safe and welcoming space.

Paint, office furniture, therapy furniture, computers, therapy management software, accounting software, therapy materials etc. are all needed. Again consult your business plan.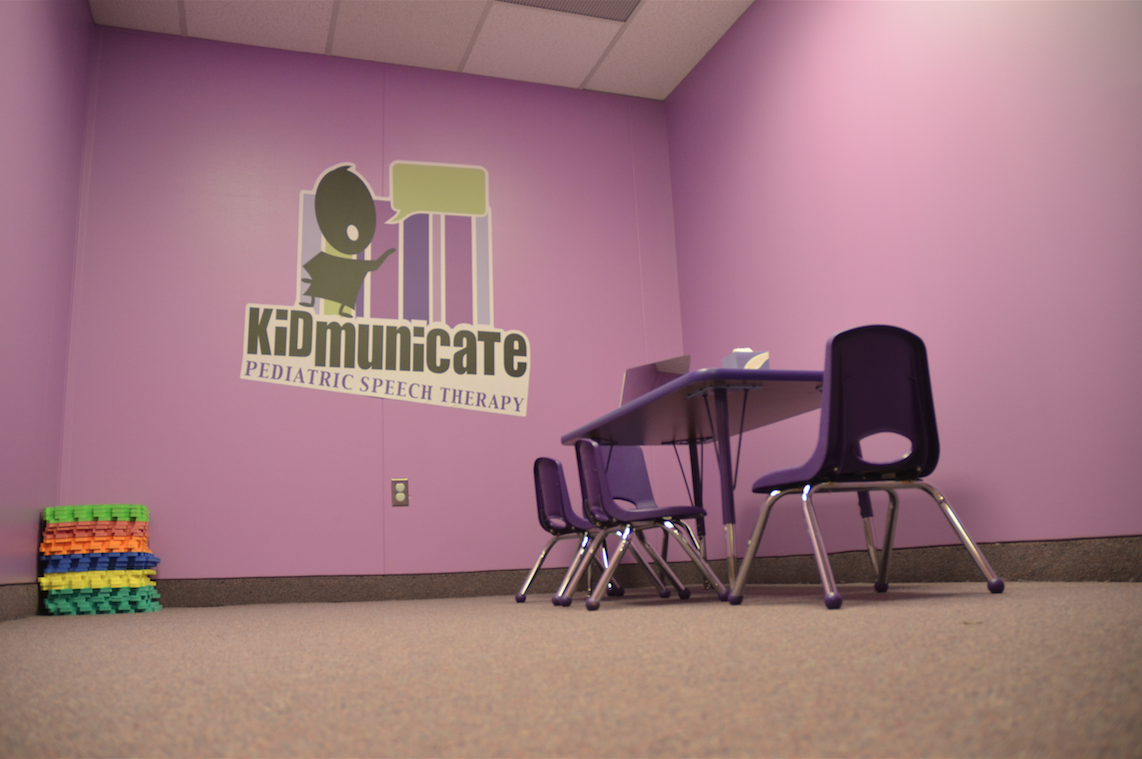 Tip 7 Decide if want to take insurance (If you franchise – we will show you how)
You'll need to decide if you are going to take insurance. This is a big decision.

It is a very complicated process to get approved and implemented.
There is a big learning curve.
This takes significant time and effort to implement. I had my office manager figure all of this out for me while I treated clients.
Why take insurance? Insurance companies can be a big source of referrals.
Why not? Insurance company reimbursement rates are low and the paper work is high.

If you decide to take insurance, you will need to get yourself and all of the SLPs who will be working with insured clients credentialed (approved by the insurance company).

Be aware, the insurance company does not have to credential you if they believe that there are already too many SLPs in the area.

Decide which insurance plans you are going to accept.

We take some insurance and don't take others. Some insurance companies do not reimburse enough money to make the financials work, but others do. Determine which insurance company covers the most people in your area and then chose wisely.

Note that you can always start without taking insurance and add it later. We did this for the first 4 months.
Tip 8 Create a marketing plan (If you franchise – we will help you with marketing)
Get noticed.

You need to get noticed, so you need to think about a marketing plan.
We recommend that you use a two-pronged approach.

Your efforts should be equally divided between your referral network (Doctors, OTs, PTs, Daycare centers, etc.) and B2C advertising and social media (Business to consumer marketing).
This is too big a topic to handle here. Needless to say it takes a lot of time, effort and expertise to market a brand and attract customers.
Tip 9 Plan your finances (If you franchise – you will still need a financial plan)
You need a financial plan and need to be sufficiently capitalized. Cash flow is so important.

You will need a significant amount of cash to get started.
This is especially important if you choose to accept insurance. Why? It will take a while to get the reimbursement back from the insurance company and that is assuming you filed the claim properly. Take it from us, you will not likely file all of the first claims properly.

The resources needed to start can vary substantially depending on how big of a clinic you want to start, the rent expenses in your geographical area, the amount of therapy materials you need, your marketing plan, etc.
Find a good clinic management software program to help you manage your practice.
Tip 10 Take a step back (If you franchise – you will not be alone)
After you think about all of the above, ask your self some hard questions. And be honest with yourself.

Do you have the expertise and time to handle the clinical services, the staff, the operational elements and the marketing? At Kidmunicate, we have the following key people working on the business:

I am, Pam Drennen, MS CCC-SLP. I am the clinical director. I concentrate on the clinical services and clinical staff and do not get bogged down with insurance billing or marketing issues.
Deb Sampson is our managing director. She set up the operation while I keep doing what I loved to do, work with children.
Fran Dicari created the business plan, marketing plan, etc. He manages the lawyers, the accountants and bankers. He also executes the marketing and social media plans.
Tip 11 Do what you love to do, help kids, and let us do the rest.
Kidmunicate is now a franchise opportunity. Visit the Kidmunicate Franchise website for more information.
The Kidmunication Point
Starting your own private practice can be so rewarding. It is the best decision that I have ever made in my career. The feeling that comes with ownership is amazing. It is my passion to help children, now I can help more children than ever before. I do have to say that I honestly could not have done it without the help from my two partners, so find some strong partners. Perhaps one day we will be partners with you.
*Kidmunicate Franchising LLC Franchise Disclaimer
This website and the KidmunicateFranchise.com website is not a franchise offering and it's not directed to the residents of any particular jurisdiction. No offer or sale of a practice will be made except by a franchise disclosure document first filed and registered with applicable state authorities.
Specific Notice Regarding Franchise Offers and Sales
This information is not intended as an offer to sell, or the solicitation of an offer to buy, a franchise. It is or information purposes only. There are approximately 14 countries and 21 US states that regulate the offer and sale of franchises. The countries are Australia, Brazil, Belgium, Canada (provinces of Alberta and Ontario), China, France, Indonesia, Italy, Japan, Malaysia, Mexico, Russia, South Korea, Spain, and the United States of America. The US states are California, Florida, Hawaii, Illinois, Indiana, Kentucky, Maryland, Michigan, Minnesota, Nebraska, New York, North Dakota, Oregon, Rhode Island, South Dakota, Texas, Utah, Virginia, Washington, and Wisconsin. If you are a resident of one of these states or countries, are receiving this message in one of these states or countries, or intend to operate a franchise in any of these states or countries, we will not offer you a franchise unless and until we have complied with any applicable pre-sale registration and/or disclosure requirements in the applicable jurisdiction.

This offering is not an offering of a franchise. In New York (USA), an offering of a franchise can only be made by a prospectus that has been previously filed and registered with the Department of Law of the State of New York. The application for registration of an offering prospectus or the acceptance and filing thereof by the Department of Law as required by the New York law does not constitute approval of the offering or the sale of such franchise by the Department of Law or the attorney general of New York.

OUR WEBSITE HAS NOT BEEN REVIEWED OR APPROVED BY THE CALIFORNIA DEPARTMENT OF BUSINESS OVERSIGHT. ANY COMPLAINTS CONCERNING THE CONTENT OF THIS WEBSITE MAY BE DIRECTED TO THE CALIFORNIA DEPARTMENT OF OVERSIGHT AT www.dbo.ca.gov.