Meet the Kidmunicate Staff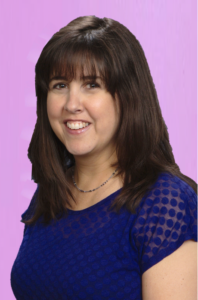 Pamela Drennen MS CCC-SLP
Clinical Director
See Pamela Drennen's profile on Healthgrades.
Pam Drennen MS CCC-SLP is the VP Director of Clinical Services Speech at Kidmunicate. Pam has a Bachelors and Masters degree in Speech-Language Pathology from Loyola University in Baltimore, Maryland.  She received the Aaron and Lillie Straus grant to work with children with Down Syndrome at the Loyola College Speech and the Language Clinic in Columbia, MD during her graduate studies. Pam also did a Fellowship at the McAuley School for Exceptional Children where she also worked with kids who have Down Syndrome. Pam provides evaluation and treatment for a variety of speech/language and communication disorders.  She has experience working with children with hearing loss, autism, Down Syndrome, a cleft palate, developmental delays, Apraxia of speech, auditory processing disorders, fluency disorders, oral motor/feeding issues as well as children with augmentative/alternative needs. Pam uses a multimodality approach when working with children using sign language and/or picture communication (PECS, Proloque2go app) while promoting verbal communication.
Pam is a member of the American Speech and Language Hearing Association and she is Prompt® trained. She organizes a monthly meeting for the Kidmunicate staff and other Speech-Language Pathologists to discuss trending topics.  She also provides speech/language in-services for local Pre-schools. She lives in Devon, Pa with her husband Rob and her three children.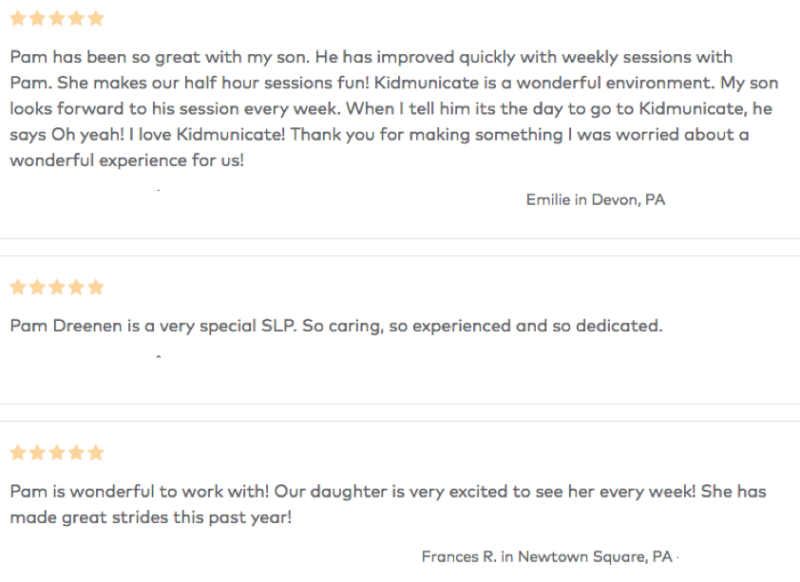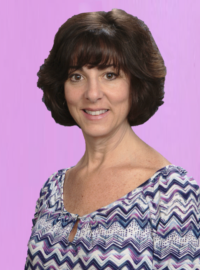 Deb Sampson
VP – Managing Director
Deb Sampson, VP – Managing Director of Kidmunicate. Deb has dedicated the last twenty years to provide services to children with special needs.  She has provided one-to-one intervention to children in need of Behavioral Rehabilitative Services as a model for parents and school personnel, liaising with a variety of professionals including doctors, therapists (including speech-language therapists), psychologists, and social workers.  Deb spent several years as Director of an Early Learning Center where her responsibilities were administration, staff management, communication, and compliance duties.  She has taught in the classroom, on the field, and in the gym. Deb leads the Kidmunicate staff of the operation managers and insurance billing specialists.
Deb has a BA in Organizational Communications from Farleigh Dickinson University. She is married to her pilot husband of 26 years who is an Air Force veteran. She has two grown children.
Eileen Krieg MS CCC-SLP grew up in the Midwest where she earned a Bachelor's degree in Speech and Hearing Sciences from the University of Illinois. She then moved out to the east coast to pursue a Master's degree in Speech-Language Pathology from Seton Hall University in South Orange, New Jersey. During her graduate studies, Eileen had the opportunity to work in a variety of therapy settings including outpatient, early intervention, and both public and private schools. She also completed a master's thesis entitled: "A Systematic Review of Treatment Options for Children Who Stutter", which was presented at the 2011 New Jersey Speech-Language-Hearing Association convention. Upon graduation, Eileen received an "Excellence in Research" award for her work on a variety of research endeavors.
Eileen is knowledgeable when it comes to working with children of all ages and stages of development. She has a wide range of evaluation and treatment experience including the areas of: Autism, genetic disorders, apraxia of speech, phonological disorders, fluency, auditory processing disorders, developmental delay, expressive/receptive language disorders, social skills deficits, and augmentative/alternative communication needs.
Eileen is a member of the American Speech-Language-Hearing Association and the Pennsylvania Speech-Language-Hearing Association. Eillen was the first Speech-Language pathologist to join the Kidmunicate staff. She lives in West Chester, Pa with her husband and two daughters.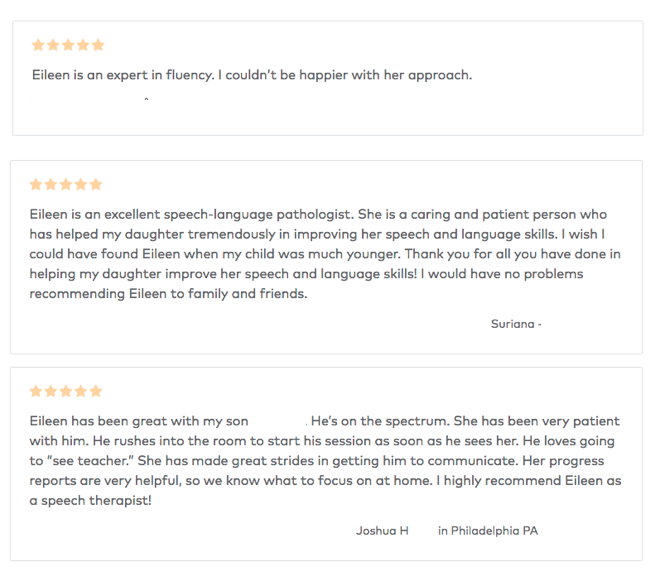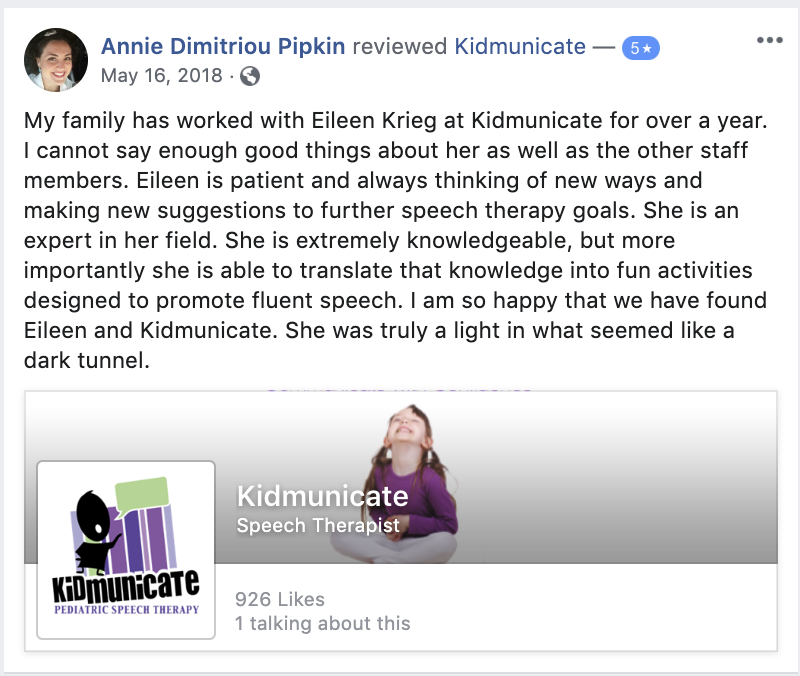 Jaimee Coates MS CCC-SLP joined the Kidmunicate family, in March 2018. She completed her undergraduate studies at West Chester University and her graduate degree at Towson University. During her graduate studies, she developed her clinical skills with experiences in a preschool setting, a private school specifically designed for children with ADHD and dyslexia, and at an outpatient hospital, where she treated patients ages 2-92. Following her graduate studies, Jaimee worked in a public school district with both elementary and middle school children individually and in groups. There she worked with children diagnosed with articulation disorders, phonological disorders, intellectual disabilities, apraxia, Autism Spectrum Disorder and genetic disorders. Jaimee led several presentations, which focused on the treatment of fluency disorders and reading disorders.
During her summers, she expanded her knowledge with literacy disorders by training and working at a LindamoodBell Learning Center.  There she was providing specific instruction utilizing the programs Verbalizing & Visualizing and SeeingStars, to target reading disorders such as dyslexia and hyperlexia. Jaimee is knowledgeable in language delays and disorders, fluency disorders, phonological disorders, auditory processing disorders, social skill deficits and executive functioning disorders. Jaimee is such an important member of the Kidmunicate staff because she has a passion for creating positive, high energy sessions and building a supportive environment to cultivate language and learning development.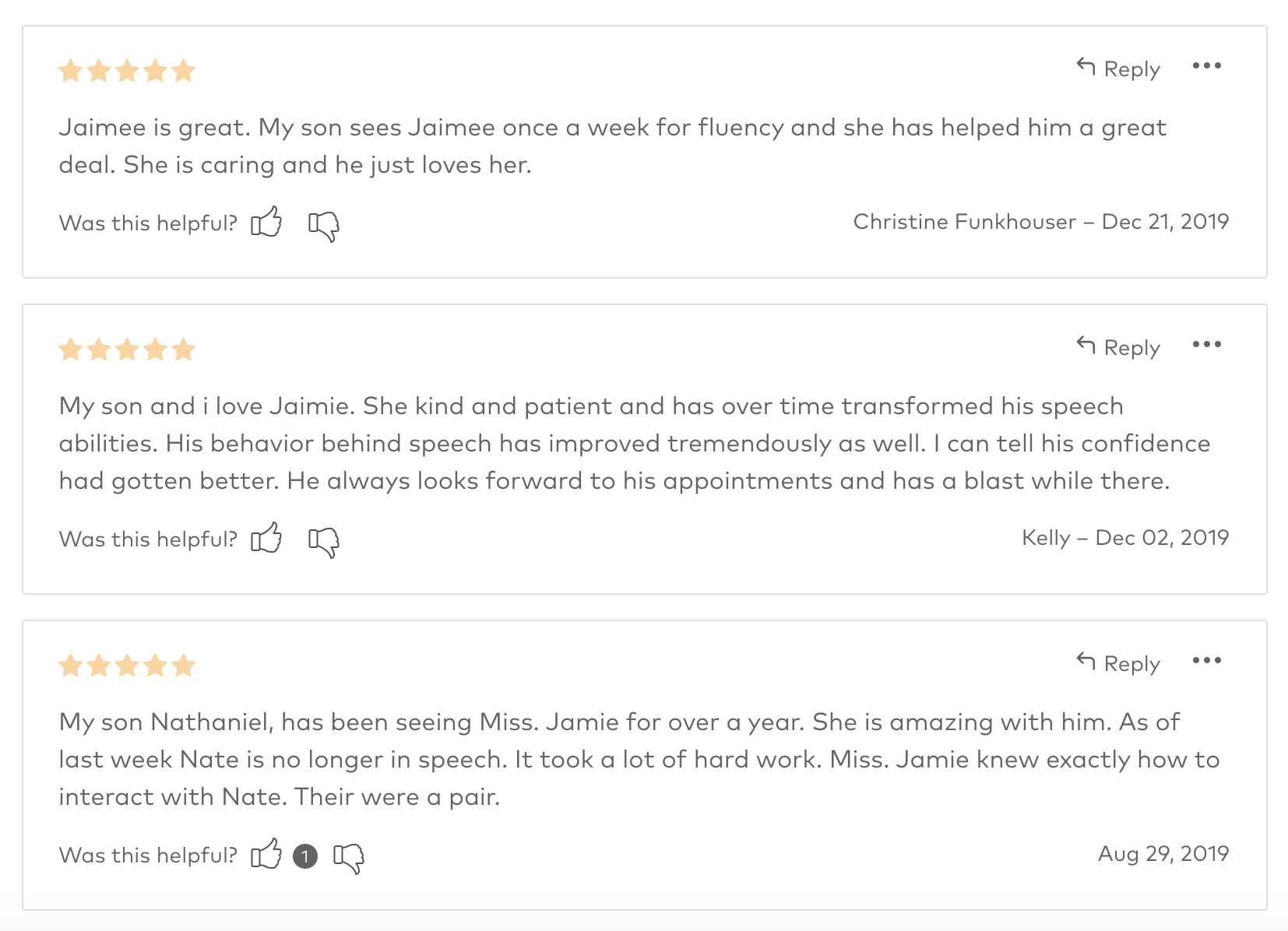 Danielle Kreis MS CCC-SLP received both her B.S. and M.S. from Pennsylvania State University. In graduate school, she was a co-author of a published study titled "AAC technologies with visual scene displays and "just in time" programming and symbolic communication turns expressed by students with a severe disability." Danielle has since worked exclusively in pediatric private practice working with children ages 10 months to 24 years covering all populations and diagnoses. Her specialties include evaluation and treatment related to augmentative and alternative communication devices and social/pragmatic communication.
Danielle is certified by the American Speech-Language-Hearing Association and is PROMPT® Trained. Additionally, Danielle provides feeding therapy and is trained in the SOS (Sequential-Oral-Sensory) Approach to Feeding. She has continuing education in the areas of Social Thinking for pragmatic language and executive functioning, pediatric voice therapy, art therapy, treatment of anxiety disorders, and is trained in Lindamood-Bell's Visualizing and Verbalizing for reading and listening comprehension. Danielle works both in Kennett Square and in Wayne.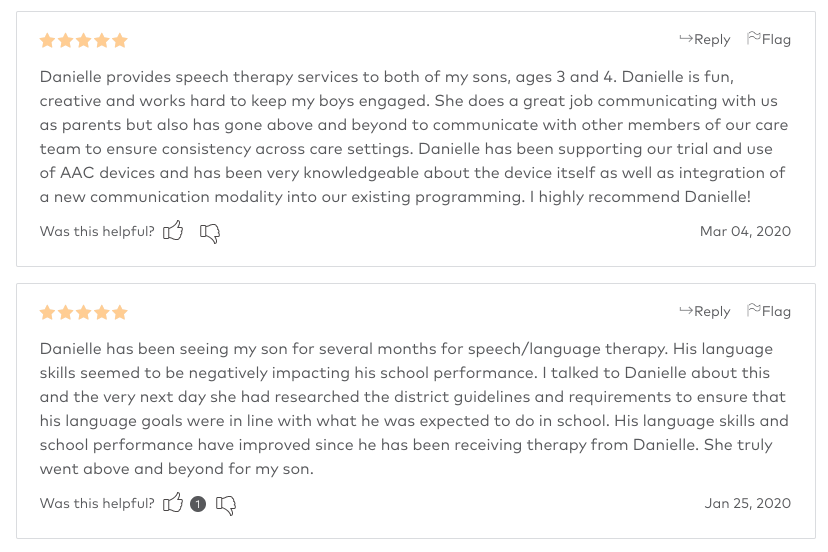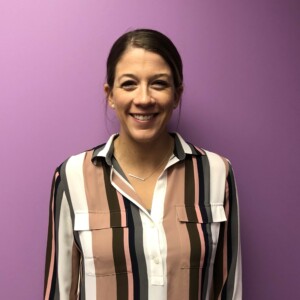 Jennifer Gordon MA CCC-SLP
Speech-Language Pathologist
Wayne PA Office