If your child has autism and you live in Pennsylvania, there are
36,000 reasons

to read this Infographic about the PA Autism Mandate (Act 62).

Pennsylvania is one of 37 states that has passed a mandate for insurance policies. The infographic below provides the details of the PA autism mandate that was passed with the Pennsylvania Autism Insurance Act (Act 62) in 2008. (Kidmunicate operates in Pennsylvania.)

If you do not live in PA, then hopefully you live in one of the other states that has an autism mandate for insurance. We certainly hope that you do because every child with autism should be able to get the care they so badly need without a lot of insurance restrictions. ASHA provides a great list of states with an autism mandate on their website.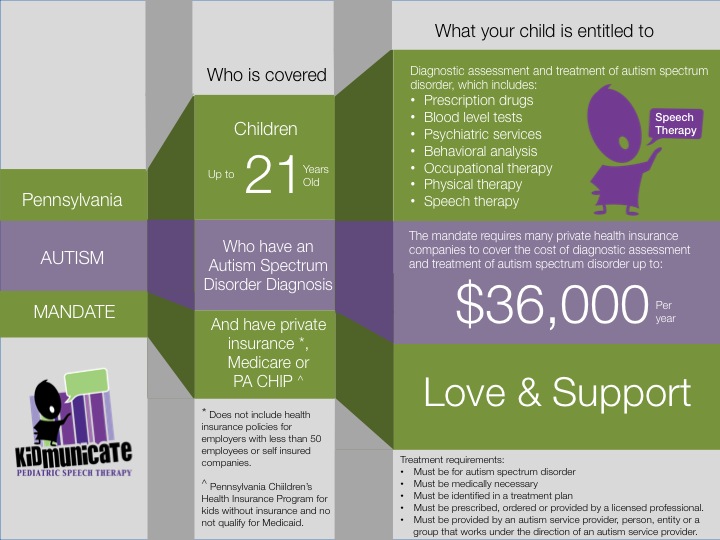 Not all insurance policies fall under the Act 62 mandate. This flow chart will help you determine if your child is covered under the act.
For more information on the PA Autism Insurance Act visit Pennsylvania Department of Public Welfare.
To read the PA Insurance Act click here Act 62
Sometimes you need to fight for coverage under the act, if so here is a good place to start Pennsylvania Insurance Department Consumer Service.
Finally please do not hesitate to call Kidmunicate at 484-367-7131 if you have questions about the act regarding speech and language therapy.