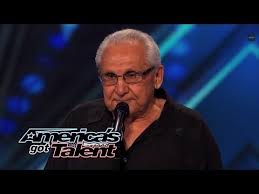 Stuttering can lead kids to avoid situations and might even keep them from pursuing their dreams. Frank Dimitri, who is now 74, has always wanted to be a singer, but lacked confidence to sing throughout his life because of he stutters. He recently found the courage to get on the stage of America's Got Talent. When he was finished singing Frank Sinatra's "I've got the world on a string.", he got a standing ovation.
Stuttering, also referred to as stammering or disfluent speech, is a fluency disorder. To the point, stuttering is any interruption in the flow of speech. It is quite common for children between ages 2 and 5. In fact, about 5% of children will develop stuttering during their childhood. Interrupted speech flow is part of the process of learning how to speak. For most children, stuttering issues are resolved on their own, however for some kids, approximately 1%, stuttering will continue and perhaps worsen. Stuttering is more common in boys than girls and is also more likely to persist into adulthood for boys.
Stuttering should be treated because it can affect a child's academics and social interactions. As was the case with Frank Dimitri, stuttering can cause emotional problems such as anxiety, fear or avoidance which can limit the potential of a child.
Click here for more information on stuttering, its causes and treatment options.